If your child is close to or entering preschool, you have many Fremont preschool programs to choose from. First, there's the "public" options. Pros: it's free. Cons: the quality of the education and the hours.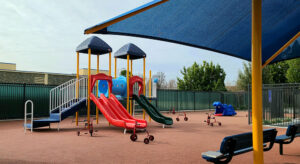 Then there are religious schools like Catholic preschools. Pros: great if that's your religion. Not so great if it's not. Then among private schools there are back to basics programs and there are Montessori. At Learn And Play Montessori we're proudly in the Montessori camp.
The Montessori method of learning is different in that the children are free to choose from the various Montessori materials that are available in the classroom, and the first of these are generally to do with the practicalities of life. So, they can involve things such as pouring different materials, cleaning and polishing, washing dishes, doing up and undoing clothes fastenings, and so on, with the object of developing skills for independent living and building up gross and fine motor control and hand/eye co-ordination. Each child is free to choose what to learn about and in what order.
Then there are sensorial materials such as the long rods, for example. These are ten rods that vary in length from 10cm to 1 metre and the child learns to place them in incremental order. This leads on to the beginnings of an understanding of math. There are many, many more.
The Child Uses All Five Senses
Our Montessori preschool programs have many different materials, all with the aim of the child learning to use all five senses rather than simply reading and listening. The children are allowed a great amount of freedom in what they do and the materials with which they engage. The teacher helps to guide children who are finding it hard to choose materials, or perhaps may be disturbing other children. She will also introduce more materials to the children as and when they seem to be ready to move on.
Indeed, the teacher is led by the children and their needs for what they are doing and learning about, and there is no formal timetable. This is very different from a standard classroom with a very structured day divided into short periods devoted to each activity, and where everyone in the class is engaged in the same activities at the same time, with the teacher instructing at the front of the classroom.
Our Fremont preschool programs are available in five different campuses in Fremont, namely Irvington, Maple, Peralta, Niles, and South Fremont. If you would like to find out more about the Montessori method, we welcome all parents to take a school tour during the day, so that you can see what the children are doing and how well they are getting on.