In the month of February, our children at LAPMS in Dublin learned about the continent of Asia. They focused on geography and its different cultures. They loved the various mountains, rivers, and lakes as well as deserts, grasslands, landscapes and its temperate forests. Learning Asian maps, flags and animals are their favorite time of the day.
On Friday, February 26th, our children brought their own artifacts, pictures and clothing from different countries in Asia. Each child had a chance to talk about what they brought during their show-and-tell. Everyone was excited and had a wonderful day of learning different things from their own Asian countries and cultures.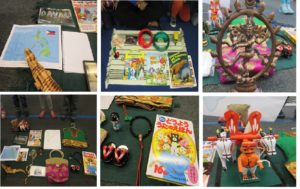 FACTS ABOUT ASIA: Asia is the largest continent, and has an endlessly varied landscapes and an interesting array of animals. Its densely populated cities are home to some of the world's tallest buildings and largest shopping malls. There are many different cultures and religions in Asia, giving rise to a wide range of traditions, rituals, laws and beliefs.
3 Interesting Facts about Asia:
Asia is Home to 9 of the world's 10 tallest buildings
One of the most astounding Asia facts is that 9 of the world's 10 tallest buildings are located on this continent. The tallest building currently is the Burj Khalifa in Dubai, which stands at an impressive 2,717 feet. This is closely followed by the Shanghai Tower at a no less imposing 2,073 feet. However, both these buildings will be dwarfed by another Asian skyscraper in 2019. The Kingdom Tower in Saudi Arabia is currently under construction. When it is complete, which it is projected to be by 2019, this tower will stand at a whopping 3,300 feet. That's one kilometer high!
The Japanese are the second oldest people in the world
Of all the Asia facts about population, one of the most striking is that Japan has the second oldest population in the world. The only other country with an older population is Monaco. The median age of the Japanese population is 44.6 years old. Incredibly, there are over 50,000 people living in Japan who are over 100 years old!
India produces 12 million tons of mangoes every year
India produces more mangoes every year than any other country in the world. The fact that it produces 12 million tons of mangoes every year is one of the most astonishing Asia facts, when you consider that mangoes are available for just three to four months of the year. There is a huge market in India for mango flavored drinks – so much so that people regard mangoes as a national obsession in India!
Asia Has the Most Varied Landscape
Although any continent has a great variety in its landscape, one of the indisputable Asia facts is that this continent can be said to have the greatest diversity of all. When you stop to consider it, it's a remarkable fact that Asia is home to both the highest and lowest points on Earth. These points are Mount Everest at 29,029 feet (8,848 meters) and the Dead Sea at -997 feet (-395 meters), respectively.