If you are like most responsible parents in Fremont, Danville, Dublin or other East Bay communities, you want the very best for your child. That starts with preschool. Unfortunately, that doesn't usually mean the public schools. You need a private preschool. And if you want the very best in the East Bay, that means Learn and Play Montessori.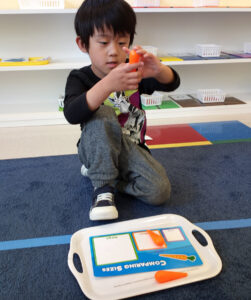 The fact is that at Learn and Play Montessori, as a private preschool, we are expanding rapidly, because East Bay parents have recognized the best-in-class preschool experience we provide for children. A couple of years ago we just had five campuses in the East Bay – four in Fremont and one in Dublin. Today we have six in Fremont, one in Dublin, one in Danville, and another two opening shortly in Dublin Ranch, and Milpitas. So, in the space of a couple of years, we have doubled in size, because parents want the wonderful learning that we provide for their kids.
What this means for East Bay parents is that wherever you happen to live and work, there is a Learn and Play Montessori near you. Not only that, but our hours are convenient as well. We open at 7.00 am and stay open until 6.00 pm, so you can drop your child off on the way to work and pick him or her back up again on the way home. Furthermore, in contrast to the public schools, we don't shut down for nearly three months in the summer! We are open all year round.
All of our classrooms are bright and airy and have a lot of natural light because where we are using an older building, we have extended the windows. Every classroom is full of top-quality Montessori materials, and every child is allowed to look around, pick them up, play with them, find out what they do – if indeed they "do" something – take them away and sit and explore them. What this means is that every child is learning about something because he or she wants to find out about it.
Our Children Love Learning for the Sake of Learning
So, it quickly follows that each child begins to love learning for the sake of learning. This is something that will stay with them for life: they will always want to find out what's "next".
Furthermore, every child learns at his or her own pace. There is no rush. No worry about "finishing first". Some children simply learn faster than others. That doesn't mean the slower learners are somehow "inferior". But the beauty of it is that there is no pressure on them. Our teachers simply keep an eye on what each child is doing, and when the time is right will provide some further materials.
If you'd like to find out more about our Montessori private preschool, we welcome all parents to take a school tour at any time that it suits you.