If you are a parent who commutes up or down the Interstate 680 – or for that matter down it towards Milpitas and San Jose – and you are looking for preschools near the I-680 in Fremont, then Learn And Play Montessori is perfect for you. We are proud to announce the opening of our latest campus on Fremont Boulevard just up from Blacow.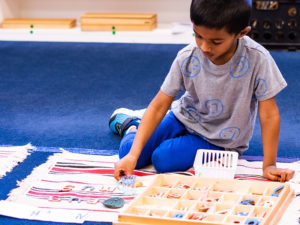 Our state-of-the-art Montessori school in South Fremont is housed in a brand-new building which has been designed and built especially for children aged two to six and covers Irvington, Grimmer, Blacow, and Warm Springs. It is also ideal if you commute up the I-680 or down southwards from Fremont to Milpitas and other parts of Silicon Valley.
Designed And Built From Scratch As A School
Not only has our new campus been designed and built from scratch as a school, but best of all we use the Montessori method of learning which has many advantages over the traditional methods of teaching preschoolers. Of course, South Bay parents are busy people and very often both have to work. We understand that, and we are ideal for those needing preschools near the I-680 in Fremont as we open at 7.00 am and stay open until 6.30 pm, so whatever your working hours are we fit around them. You can just drop your child off on the way to work and pick him or her up again on the way back.
The Montessori method of learning is perfect in every way because it is based on the fact that every child is an individual and is to be respected as such. Just as adults do, children have their likes and dislikes, and our methods cater for that. Every classroom has a large quantity of Montessori materials of the finest quality and the child is allowed to meander around and inspect them. He or she can take anything that interests them and play with it or explore it and find out everything about it.
The beauty of this is that it instils in the child a love of learning because he or she is having fun while doing it. That instils a sense of wanting to find out more and very soon a child is learning because he wants to. This is very different from being taught by listening to a teacher talking about something which may have no interest for the child whatsoever. Furthermore, it means that the child uses all five senses to learn, rather than simply reading or listening.
If you are looking for preschools near the I-680 in Fremont, then we will be happy for you to drop by at 41965 Fremont Boulevard at a time that suits you, and we can show you around.