At Learn And Play Montessori we teach using the Montessori method of learning, as you might guess. Before the pandemic, this was relatively straightforward because we have a campus in Danville and another in Dublin.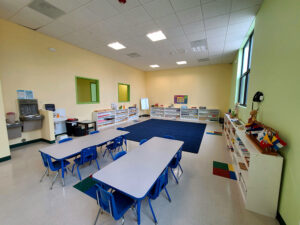 We also now have five in Fremont – in Irvington, Niles, Peralta, Maple, and South Fremont. So, wherever you live or work in the East Bay Area, we have a campus near you.
We are also very convenient timewise, because we open at 7:00 am and stay open until 6:30 pm, so we fit comfortably around whatever your working hours are.
However, the pandemic has changed the way that we live, work, and school. But at Learn And Play Montessori we have moved with the times so you can now get the Montessori homeschool programs that we have developed so that your child can learn online.
Programs On Zoom And Facebook Live
Our Montessori homeschool programs are run on Zoom and Facebook Live and are interactive. Obviously, it is not exactly the same as coming on to the campus, but we have incorporated all of the Montessori principles into our online learning, so that your child can have all the benefits from the comfort of home.
Furthermore, all of our virtual preschool and kindergarten classes are recorded and uploaded to our YouTube channel. That means that your child can attend school at the hours that suit you, so if he cannot be there live for one reason or another, he can catch up later in the day. He can also go back and watch something if he has forgotten it or wants to double check something in our Montessori homeschool programs.
We are also able to offer a blended learning that will fit around your life and working hours if, indeed, you are still going into an office. So, your child can come on to the campus for however many days a week suits you and use the online virtual learning on the other days. You really do get the best of all worlds with Learn And Play Montessori. It also means that you can have your child learn with us even if you don't live anywhere near the Bay Area, and now we do, indeed, have children learning with us from other parts of the country.
Our online preschool program provides an enriching hands-on learning experience with specially formulated Montessori materials for math, language, sensorial exploration, practical life activities, art, science, second language (Spanish), music, history, and geography. This means that your preschooler can get everything Montessori online without ever coming into the classroom if you wish.