2020 is (almost) one for the record books. We don't know about you, but at Learn And Play Montessori we are eager to put 2020 behind us. However, we try to be positive and we're excited about our virtual preschool 2020 opportunities. We've been working hard to bring best in class online learning opportunities to our preschools. Thus, we are looking forward to 2021.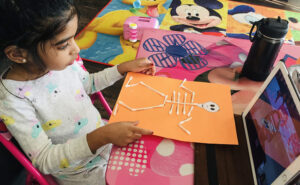 The good news is that all of our East Bay campuses are open and can provide preschool for your child. We open at 7.00 am and don't close until 6.00 pm, so we are convenient for you whatever your working hours may be. With campuses in Danville and Dublin, and no less than five in Fremont – Niles, Peralta, Irvington, Maple, and South Fremont – we can provide Montessori preschool education for your child just as we have always done.
The Montessori method allows the child to choose what to learn about, and he or she does this by looking through all the Montessori materials that we have available in the classroom until he finds something that catches his interest. Then he can take those materials and play with them, explore them, and learn all about them. The result of this is that each child very quickly learns to love learning because he is enjoying what he is doing. He doesn't see it as something that has to be done, but something that he wants to do.
All of our campuses have lovely playgrounds that are secure and gated where the children can get out and play and learn about nature. We like to let them be outdoors as often as we can.
Montessori Adapted For Virtual Preschool 2020
Of course, many parents are homeschooling their child today and that is why we have taken the best of the Montessori principles and adapted them for our virtual preschool 2020. From your point of view as a parent, this means that you can now bring your child on to campus full time or part time or make use of our virtual preschool 2020 full time if you prefer. Whichever way you choose, you can be comfortable in the knowledge that your child is benefitting from the Montessori method of education.
We have daily classes for all age groups from 18 months to six years on Zoom and Facebook Live. If you are unable to view a class live it is not a problem because everything we are doing online is recorded and listed on Facebook and our YouTube channel, so your child can play catch-up if need be.
For more information on our virtual preschool learning, click on the Online link at the top of the page. You are also welcome to come into any of our campuses to find out more about it.