Covid-19 is like something that nobody alive today has ever experienced, so there is no doubt that it came as a shock. Suddenly, we were all in shutdown, unable to go to work, and unable to do anything at all in some instances.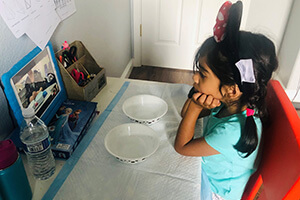 And of course, one serious repercussion was the fact that all the schools had to close here in the San Francisco Bay Area, and children stayed at home. Even many parents who could go to work suddenly found they couldn't, because they had to stay home and take care of the kids.
Of course, wise parents began to teach their children at home because they realized that – Covid-19 or no Covid-19 – life had to continue as normal as far as possible, and that means that you can't let it interrupt your child's education.
Even our Dublin, California, kindergarten at Learn And Play Montessori had to close. But we also understood very quickly that we cannot let our kids fall behind, because learning is critical to their upbringing. So we had to put our heads together and come up with an answer, and we did exactly that. We brainstormed and pursuant to State and Federal guidelines – we created three options: face-to-face, blended, and online only. Thus you have options for your children and you can choose what works BEST for your family.
Your child can now take part in our Dublin, California, kindergarten online. OK, it is not exactly the same as being face-to-face with your child, but we have taken all the essential elements of the Montessori method of learning at kindergarten age and created a system of teaching it online so that your child doesn't fall behind. Many of our parents jumped on it as soon as we introduced it, and with good reason.
Even the public schools followed our lead and are now providing teaching online. However, that is all that they are providing.
We Are Providing Much More For Your Child
At Learn And Play Montessori, we are providing much more than that for your child. We fully understand that some parents are working from home and, while online learning is a great option, it may not always work as well as you would wish. For instance, if you are taking part in Zoom calls for work you cannot be looking after a child at the same time: the boss isn't going to like it.
All of our campuses in the East Bay, including our Dublin, California, kindergarten, are now open again, so you have the option of returning to the way things were – albeit with social distancing rules etc. Thus you can find best-in-class kindergarten – online, blended, and face-to-face in Danville, Fremont, and Dublin, California.
However, we are also offering the option of a blended education. What does that mean? Well it means that you can use the online learning when it suits you and bring your child on to campus when it suits you. So if you have a Zoom meeting on Tuesday you can bring your child to the school, and on Wednesday let him work from home online. What could be better?