The Cabrillo neighborhood in Fremont is right off of Interstate 880. It's "freeway friendly" and (for the Bay Area) a more affordable neighborhood with many young families, because property is less expensive than in, say, San Francisco or San Jose.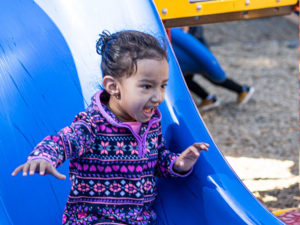 With a lot of young families, it follows that there is a need for preschools near the Cabrillo neighborhood in Fremont, and the good news is that Learn And Play Montessori has several Montessori schools in Fremont which are within easy distance of Cabrillo.
In fact, in a few short weeks' time we are opening our newest campus in Fremont which is in Centerville. Great news! It's only a mile away! If you are looking for preschools near the Cabrillo neighborhood in Fremont, it doesn't get much closer than that.
As with all of our Fremont campuses (the others are in Niles, Maple, Peralta, Irvington, and South Fremont) the campus has large open classrooms with a lot of natural light. All use the Montessori method, and all offer best-in-class daycare, preschool, and kindergarten programs.
The classrooms will be filled with the very best Montessori materials from which pre-schoolers can choose something which interests them. They are allowed to roam through the classroom and find something which catches their eye, and then they can take it away and play with it, explore it, and find out what it does (if anything).
The Children Learn Because They Want To!
This is one of the basic principles behind the Montessori method. It means that every child is finding out about something because he or she wants to learn more about it. The result of this is that the child very quickly begins to love learning about things for the sake of learning about them. It develops an enquiring mind. Our teachers keep a close eye on what each child is doing, and when the time is right will introduce him or her to some further materials to explore.
There are some other great benefits to the Montessori method if you are looking for preschools near the Cabrillo neighborhood in Fremont. Not the least of these is that because each child is finding out about something different, there is no sense of having to be "best" or "coming first". So, there is no competition. Rather, it is the opposite, because the older children in the class will often help a younger one if he or she is having difficulty with something.
In addition, there is no rush. Children learn at different rates, and some will learn faster than others. That does not make them any "better". But because the teachers help them with further materials when they are ready, it means that the faster learners do not get held back, and the slower ones do not feel under any pressure.
If you would like to find out more about the Montessori method and our new campus in Centerville, call us at (510) 870-4678 or click on the Contact link at the top of the page.