Irvington, Fremont, California – December 8, 2019. Learn and Play Montessori, a Bay Area leader in providing award-winning Montessori preschool education is proud to announce a new update to its Irvington preschools page.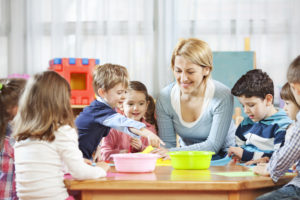 Irvington is a key neighborhood in Fremont, California, that is increasingly popular with young parents. Many innovative, creative thinkers working in Silicon Valley may be ready to enroll their children in a best-in-class preschool. Parents living in the cities of Irvington and Fremont can find a top Montessori school on the way to work. The newly updated page provides key information on enrollment opportunities for the end of 2019.
"A lot of innovative workers live right outside Silicon Valley and drive in every day. Many of these folks enjoy the eclectic, creative atmosphere of the Irvington and Fremont areas," explained Harpreet Grewal, director of Learn and Play Montessori. "They might expect their preschool choice to provide an intelligent and creative curriculum for their children. Our informational page is there to show them we appreciate out-of-the-box learning."
Families living in the Irvington area can check out the updated neighborhood page for Learn & Play Montessori preschools. Cities bordering the Silicon Valley can be home to imaginative Bay Area employees. Parents living in so-called eclectic towns like Fremont might appreciate a creative, visionary curriculum for their children. Parents ready to send a youngster to an innovative preschool can sign up for a tour any time throughout the school year until slots close. In addition, to learn more about the Centerville, Fremont location interested persons can go to https://www.learnandplaymontessori.com/maple-fremont.
MONTESSORI PRESCHOOLS IN IRVINGTON AND FREMONT CAN INSPIRE THE IMAGINATIVE LEADERS OF TOMORROW
Here is the background for this release. The Silicon Valley area is considered a hub for creative leaders and leading-edge ideas. The working population filling the slot for the most innovative companies in the Bay Area can live right around the outlying cities and towns. Trendy and eclectic towns like Fremont and Irvington can be home to a large group of creative thinkers. Parents driving over to the Silicon Valley may be ready to send young children to an outside-the-box type preschool, daycare, or childcare.
Children of scientists, engineers, digital artists, and inventors could explore the same careers as their parents. A lifetime of visionary achievements might begin in a Montessori preschool in Irvington, Fremont. Leading-edge learning methods could help a young student discover a passion for botany or biology. Exploration in artistic skills might inspire a child to discover a talent for architecture or engineering. Early learning milestones in writing, reading, and math can boost confidence and support vital social skills.
Visionary parents ready to send preschool-aged children to an out-of-the-box school can find one nearby in Irvington, Fremont. The 'leaders of tomorrow' can begin by attending Montessori preschools. For these reasons, Learn and Play Montessori is proud to announce an update to their informational page for the Irvington neighborhood.
ABOUT LEARN AND PLAY MONTESSORI
Learn and Play Montessori aims to be one of the best Montessori schools in the greater San Francisco Bay Area. Whether parents are looking for a Montessori School in Danville, a Blackhawk preschool, or a top-rated Montessori School in Dublin / San Ramon, Learn and Play has a campus for their child or children. Bay Area parents searching for Walnut Creek preschool options could find the right fit in Danville. All schools use the famed Montessori method, offering programs from childcare to daycare, preschool to kindergarten, in not only Danville, Fremont, Dublin, or San Ramon but also in nearby towns such as Alamo, Blackhawk, Diablo or San Ramon on the I-680 corridor as well as Walnut Creek.
Learn and Play Montessori
Media Relations