Montessori homeschooling means empowering your children to LOVE TO LEARN. At Learn And Play Montessori we love teaching and helping parents learn how to better homeschool their kids the Montessori way.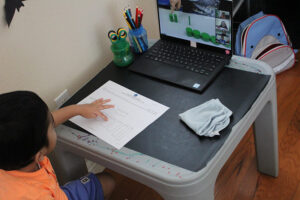 We still have all of our physical campuses open in the East Bay Area in Fremont, Danville, and Dublin, so you can bring your child to school in the traditional way if you wish. We open at 7.00 am and don't close until 6.00 pm and we cater for children from the age of 18 months to six years, so we are perfect for parents who have to work away from home, whatever your hours may be. You can also bring your child on to campus part time if that suits you better. We have always endeavored to make life as easy for parents as possible.
In the classroom, we have a wide choice of superb Montessori materials and each child is free to roam the classroom until he or she finds something of interest. The children are allowed to play and explore the materials and to learn about them at their own pace. The Montessori method is based largely on the fact that children learn at different speeds: some are quick learners while others are slower. There is no rush. Our teachers keep an eye on what each child is doing and when he is ready will introduce him to some further materials.
This means that children very quickly learn to love learning for the sheer sake of learning. It also means that there is no sense of competition or being "best" at something. Each child is learning about something different in any case.
All of our campuses – five in Fremont, and one each in Dublin and Danville – have large open playgrounds where the children can play and get up close to nature as well.
A Complete Curriculum For All Ages Online
Now obviously, children who are Montessori homeschooling can't play with other children in a playground, but we have put together a complete curriculum for all ages online, based on Montessori principles. Our virtual programs have daily Zoom sessions with classes for different ages, and also on Facebook Live. We also have a YouTube channel, so you can access Montessori homeschooling in whichever way suits you best as a parent. All of the classes are recorded and available, so we have an ever-growing collection of classes for the children to explore. It also means that your child can go back and learn from classes that we did months ago, and that is one thing that you cannot do in a physical classroom!
For more details and to explore the curriculum online click on the Contact Us/Inquire link at the top of the page.