Irvington is one of the original towns that formed Fremont, California.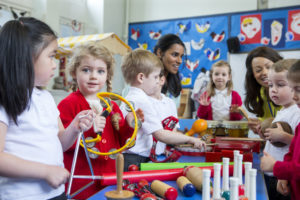 It's an up-and-coming neighborhood, increasingly popular with the Silicon Valley set because it is close to the I-680. We have one of the best preschools in Fremont, located right in the heart of Irvington, and we use the Montessori method, so we're "Irvington proud!"
Our Irvington preschool has eight classrooms and a secluded play area for children from 2 to 6. The rooms are light and airy, and there is also an outdoor play area which is securely fenced and has some tall trees which provide shade on a hot, sunny day. The children will follow the Montessori Method of learning which lets them develop their own interests: as a result, they will learn to love learning.
There is a wide range of subjects for the children to explore including math, writing phrases, and poetry. They will learn about our world, water, continents, and countries, and delve into botany, biology, and cultural concepts. The children are encouraged to become independent and learn leadership skills, yet will also engage in teamwork. In addition, they will take part in activities involving the arts, music, physical education, and learn some Spanish.
A Natural Process Carried Out By The Child: Why Montessori is the Best Preschool Option in Fremont
Maria Montessori said that education is a natural process carried out by the child, and is not acquired by listening to words, but by experiences in the environment. We have plenty of materials and equipment to hand in our Fremont preschools so that each child can explore and develop his or her own interests, and we watch them closely in order to understand the subjects that do interest them so that we can help them improve their skills. The teacher is a guide and helps the child to develop by providing the right learning materials. The teacher is aware of each child's interests and stages of development and provides lessons appropriate to both. This ensures that the child will be successful and imparts positive self-esteem.
We aim to give the child the individual attention he or she needs to learn, and to develop respect for oneself, respect for others, and learn honesty, kindness, compassion, empathy, integrity, and responsibility.
The children choose their own activities and work on them at their own pace. There is no way that they are pushed into doing something and they are not allowed to feel they have failed if they are slower to do something than another child. They have the environment in which they can learn, play, solve problems, and develop freedom and self-discipline in the beautiful surroundings of our Irvington campus.
In the Montessori Method used in our Irvington preschools, children learn because they develop a love of learning, and they engage in individual or group activities as they choose. Older children will share what they have learned, and this reinforces their own learning as well. So if you're looking for a Fremont preschool – that is, one in Irvington – let us know. It's a great commute option, too, if you're looking to drive down 680 to Silicon Valley!