Daycare is a critical experience for every child. Daycare is a time when the child is beginning to learn about the world, in earnest, and experience self-confidence as well as learn to play well with others. Learn and Play Montessori offers daycare at multiple locations in Fremont plus locations in Danville / San Ramon and Dublin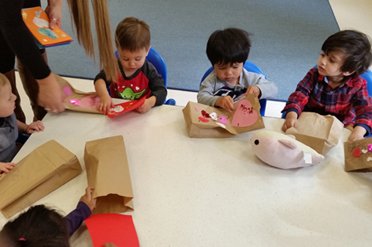 Pleasanton. Call us today to discuss how our daycare can be great for you and great for your child!
Our daycare program is –
More than just Daycare: We set the foundation for a love of learning via the "Montessori Method," where age-appropriate.
Convenient Hours: our Daycare hours are early and late, convenient for busy Bay Area parents.
Convenient Locations: our Daycare programs are in Fremont, Dublin, and Danville. We're convenient to I-680 and I-880, making it ideal for busy commuters.
Step-by-step Program: our Daycare program leads easily into our best-in-class preschool and kindergarten programs, all based on Montessori techniques.
If you're curious about the Montessori method, or just looking for the best daycare in Danville, Fremont, or Dublin, your first step should be a school tour. Contact our helpful staff today for a school tour by appointment or just drop by. We're proud and excited to showcase our daycare program, long considered one of the best daycare methodologies for burgeoning youngsters.
Daycare That is More than Daycare
Unlike many Danville, Fremont, or Dublin day care programs, our Montessori programs, will allow your child to do more than just play with blocks and draw pictures. Of course, those activities are important. However, we want to focus on your child's brain development while encouraging them to complete those activities.
We focus on many different subjects similar to ones your child will learn when they enroll in school in a year or so. Our subjects include:
Math
Science
Language
Visual Arts
Movement
Physical Arts
Using the Montessori method in combination with best-in-class daycare, each of our subjects allow your child to learn off of flash cards, teach them new vocabulary, play with puzzles, and learn to read. If that sounds like something you want your child to be involved in, send them to Learn and Play Montessori School!
Montessori as a Best-in-class Daycare Program for Your Child
Here at Learn and Play Montessori School, our main goals are based on helping your child improve their cognitive, physical, social, and emotional skills. We believe that it's important for your child to learn to work with others, but we want them to be able to learn at their own pace. Learning comes differently for many people, so we know the way things are taught shouldn't all be the same. We want to do whatever it takes to help your child prepare for preschool, kindergarten, elementary school, high school, college, and life. If you want them to be prepared too, send them to Learn and Play Montessori School's Day Care! Our goal is to be not only the best daycare program in Danville, Fremont, and/or Dublin but also to be the best program customized to the needs of your child.
Daycare Factoid: Piaget and the Child
Piaget's continued interactions with young children became part of his life-long research. After reading about a child who thought that the sun and moon followed him wherever he went, Piaget wanted to find out if all young children had a similar belief. He found that many did indeed believe this. Piaget went on to explore children's countless "why" questions, such as, "Why is the sun round?" or "Why is grass green?" He concluded that children do not think like adults. Their thought processes have their own distinct order and special logic. Children are not "empty vessels to be filled with knowledge" (as traditional pedagogical theory had it). They are "active builders of knowledge-little scientists who construct their own theories of the world."
Source: https://www.scholastic.com/teachers/articles/teaching-content/pioneers-our-field-jean-piaget-champion-childrens-ideas/