Unfortunately, many parents think that really young children can't learn (even theirs). They think that daycare or childcare is just "babysitting," and are OK if the child is just left to play alone or with others.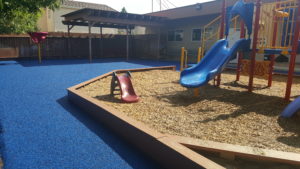 Now at Learn And Play Montessori we agree that play is VERY Important for the young ones, but we also believe that learning is important as well. That is why we introduce learning concepts in age-appropriate ways early on. If it comes to a question of preschool vs. daycare vs. childcare, we believe that our approach is far better than just run-of-the-mill daycare or childcare.
Let's face it: all children have to learn, and the best way for them to learn is to have fun while doing it. That is why, with the Montessori method, the children are allowed to choose what they learn and when. Our lovely large and light classrooms are filled with the very best quality Montessori materials, and each child is allowed the freedom to wander the classroom looking at all the materials until he or she finds something which interests him or her.
When that happens, the child can take the material off on his own or perhaps join in with some other children and look through it and find out what it is and what it does. We find that this approach to preschool vs. daycare vs. childcare gets the children off to a far better start than just letting them play all day.
In One Sense They Are Playing
In one sense, though, they are playing because they are learning about something which interests them and when something is interesting, we want to find out more about it. That goes not only for a two-year-old, but for all of us. This is why fully-grown adults play computer games, because they want to find out about the game, what it does, and the various challenges, and overcome them. Once they have done that, most computer games players look for another game, because the first one is done and dusted, and they want to learn about something new.
We take the same approach at all our Preschools in the East Bay area. We have one in Dublin, one in Danville, and four in Fremont – with a fifth due to open there shortly. So wherever you are in the East Bay, we are convenient for you and your child.
At Learn And Play Montessori we are happy for all parents to come into any of our schools – walk-ins accepted – so that you can see for yourself the way we handle preschool vs. daycare vs. childcare and see how well our children are doing for yourself.