Covid-19 has changed the way we live, and it will never be quite the same again. At Learn And Play Montessori Schools, we are fully open for all children whose parents want the traditional method of learning, but we have also developed our online Montessori programs, and we are happy to tell you that we are excited!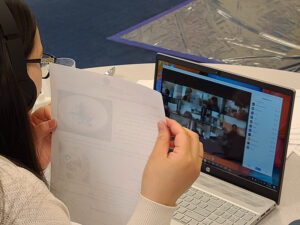 This is because our online Montessori programs are booming! They really are. We have children in our online/virtual Montessori learning programs not just from the East Bay, not just from California, but from as far away as New York!
So, if you live or work in the East Bay you can bring your child to our Danville or Dublin campuses, or any of our five campuses in Fremont. You can homeschool your child entirely with our virtual learning programs. You can also do a blend of both – part-time on campus and part-time at home. What this means for you as a parent, especially if you are a working parent, is that it is easier than ever to get your child's early education the Montessori way.
Our campuses are all open from 7.00 am to 6.00 pm so are ideal whatever your working hours. We take children from the age of 18 months up to 6 years old.
You Can Also Enroll In Our Virtual Montessori Programs
But you can also enroll in our online virtual programs that have live sessions each day for the different age groups and are designed using Montessori principles. If your child is in a public school program, these are 100% online at the moment, so you could also enroll your child on campus at Learn And Play Montessori for a couple of days a week so that he or she can become interactive with other children rather than alone at home all day.
Our online classes take place on Zoom, Facebook Live, and YouTube. This means that your child can watch each class live at the appropriate time. They are at different times according to age group. However, all of our online Montessori programs are also recorded. That means that if, for some reason, your child cannot watch a session live it will still be available for him to view later on. All sessions are available on Facebook Live or YouTube. Furthermore, if your child wants to watch earlier sessions, they are still available. In addition, if your child wants to be reminded of something in a session he has already watched, it is a simple matter to go back to it.
In order to find out more, we encourage all parents to come into their nearest Learn And Play Montessori School for a school tour. At the same time, we can discuss all your options for online learning or a blend of both.