Parents today are having to scramble to keep their kids learning. So we now see searches online for "virtual vs. online vs. homeschool preschool" and it is all beginning to get very confusing.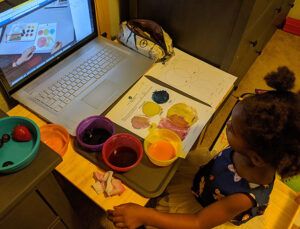 It can also be very difficult because children may need to be homeschooled, but now dad is working from home which may make that difficult. Or maybe dad goes to the office two days a week and works from home the rest of the week. Or perhaps mom works as well. Or maybe she doesn't. So people are searching for virtual vs. online vs. homeschool preschool and finding that it is not easy to come up with the right answer that fits around their "new normal" lifestyle.
Well, the good news is that, at Learn And Play Montessori, we have come up with the very answers that you need. First off, we have no less than seven campuses in the East Bay – in Dublin, Danville, and five in Fremont. And they are all open. That means that there is a Learn And Play Montessori near you. Our hours are also convenient because our campuses are open from 7.00 am until 6.30 pm, so whatever your working hours may be, we fit in with your needs.
A Complete Online Preschool As Well
Better still, we also now have a complete online preschool which means that wherever you may be in the US, or even further afield, your child can have the best Montessori program available to him or her, which would not have been the case if you lived in Brownsville, or Santa Rosa or Sacramento. Learn And Play Montessori is open to all children online.
If you live in the East Bay area you can also mix and match. So your child can come into campus for part of the week and use the online portal for the rest of the time. We have taken the greatest of care to ensure that the pandemic does not affect your child's ongoing education, which is paramount.
We have live sessions on Facebook Live and on Zoom every day for children from the ages of 18 months to six. Furthermore, every one of them is recorded which means that if your child misses a session for whatever reason he or she can play catch-up later on.
So you no longer need to go searching for virtual vs. online vs. homeschool preschool because at Learn And Play Montessori they are all available in one place. It doesn't get any easier than this.
Take a look around our website and see for yourself. You can also call or email us during opening hours if you have questions, and in addition, you can have a school tour at the campus of your choice at a time to suit you. What could be better?