Here in Danville, people like to have options. Within an hour or so, you can be at the beach. Or you could head up to the Sierras for the snow. Take BART at Dublin / Pleasanton into SF. Another option is childcare.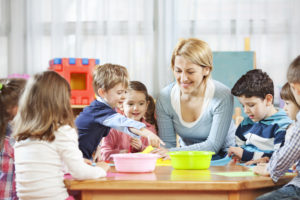 Some people choose to have nannies in the home, but others prefer an off-site option using a facility such as Learn And Play Montessori in Danville. The best thing to do is to come into the school and we'll sit down with you and work out what's the best option for you and your child.
We give you plenty of Danville childcare options here. We know that many busy Danville parents have to commute and so need some flexibility in the hours that we provide. We have a morning care program, a half-day program, an extended-day program, a full day program, and an after-school program. So there will always be one that fits around your lifestyle. We open at 7.00 am and we stay open until 6.00 pm which is ideal for those who have to commute. We are also situated just off the I680 which is great for commuting parents from San Ramon, Brookshire, Tassajara, Blackhawk, and other cities. We are open to children from the age of 18 months to six years, so you have plenty of Danville childcare options here at Learn And Play Montessori School.
Tudor Cottage Style Campus With A Large Playground
Our Danville Montessori school is a spacious Tudor cottage style campus with a large playground with separate areas for the different ages, and it is fully gated, providing a safe haven for the children as they develop their gross motor skills and play with the variety of equipment we provide. The classrooms, of which there are eight, have extended windows to allow in the maximum amount of natural light, and are roomy and filled with sequenced high-quality Montessori materials which allow endless opportunities for the young minds to explore. Each child can choose from the materials those which interest him, and he can learn and play with them. Children learn at different rates but with the Montessori method there is no necessity to achieve a certain target in a given timeframe. The child simply proceeds at his own pace and the teacher keeps an open eye and introduces him to further materials when he is ready for them.
We have a range of ages in the classrooms and the older children are very happy to help the younger ones if they are having a problem or are not able to understand something. This is another benefit of the Montessori method because the children develop their social skills as well.
We encourage all parents to come into the school and let us show you around, and we can sit down with you and discuss all of the Danville childcare options that we can offer you.