If you are looking for Danville Montessori schools, you will find that there are several. At Learn And Play Montessori, we congratulate you if you have decided that you want your child to learn the Montessori way, because we believe without a shadow of doubt that the Montessori method is beyond compare.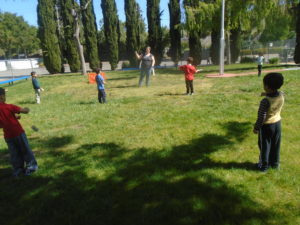 It engages with each child in such a way that the child WANTS to learn rather than having to learn, and there is a world of difference.
This is a fact of life for all of us: if we want to do something we are going to do it and enjoy doing it, rather than being force-fed something in which we have no interest. As parents looking for Danville Montessori schools you will no doubt remember your own education and having to learn subjects in which you had no interest such as, for instance, Latin. Some children loved to learn Latin, but for others it is simply a dead language (it isn't, as it happens) which they were forced to learn and promptly forgot as soon as they left school. Apart from a few scholars, Latin is not today spoken as a language, but it is in use in all sorts of places, especially the world of nature and plants. If you are a gardener, you will understand.
Montessori Schools in Danville and Your Options
While Latin still has many uses, being forced to learn it and then discarding it is rather a waste of time when you could have been spending that time learning something that you enjoy. This is why at a Montessori school we let the child use his own mind to explore things which interest him rather than things which don't. By doing this he becomes interested in certain subjects and continues to learn about them because he enjoys it. We have open and light classrooms packed with all sorts of materials which your child can explore and have fun with. By and large, they are natural materials too: we try not to use plastics.
Each child is learning at his own pace and does not feel that he is a failure if he is a slower learner than the next child. In any event, he is probably engaged in something totally different from the next child, so there is no sense of competition. Teachers watch each child as an individual and when the time is right will introduce new materials for him to explore. Children who are quick learners don't get held back either.
If you are looking for Danville Montessori schools, we encourage you to come and see Learn And Play Montessori during the daytime and see what we do and how we do it.