Dublin, California – December 4, 2019. Learn and Play Montessori, a unique preschool system serving San Ramon, Danville, Fremont, and the surrounding East Bay is proud to announce a new blog post explaining how to determine best-in-class preschool options.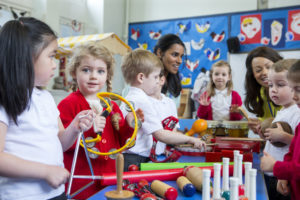 Parents can use the post to research several preschool options before enrolling a child. Public and private school choices could offer different learning experiences. The best Montessori preschools in the East Bay can stand out by merely providing a 'students first' attitude.
"Parents have several choices when looking at a good Bay Area preschool for their little one. Many public schools are bound by rules and restrictions that don't necessarily help a student with their social, emotional, or learning development," explained Harpreet Grewal, director of Learn and Play Montessori. "Our new post explains how Montessori schools stand out from the average learning facilities. It starts with creating an environment that puts students first."
Bay Area residents can read the new blog post from Learn and Play Montessori about the best Montessori preschools in the East Bay. Choosing the first preschool experience for a child may cause anxiety for a Bay Area parent. Several public and private options could promise top-notch care for but may follow regulations hindering the learning experience. A great choice can be a child-focused curriculum designed to guide a young student through important early learning milestones. The Montessori Method can encourage individual learning and development. Interested parents can schedule a complimentary tour for schools in Fremont, Union City, Dublin, and Danville.
THE BEST MONTESSORI PRESCHOOLS IN THE EAST BAY OFFER NO RESTRICTIONS TO EARLY LEARNING
Here is the background for this release. Bay Area preschools can vary between public and private-style facilities. A public option may be free, but restrictions can bring a downside. Tight district budgets can mean cutting back on teachers, school hours, and learning tools. That might result in limited resources a child needs to achieve vital learning milestones. Private schools may come with a big price tag and vary in teaching styles. The right choice could be a preschool dedicated to a 'children first' teaching method.
Bay Area parents might not expect restricted learning in a preschool environment. The ability for a child to explore an abundance of play, music, and books might be relevant to families. The award-winning Montessori Method provides a child-focused curriculum and a vast array of fun learning tools to spark a young imagination. The Montessori preschool style allows each child to reach milestones at an individual speed. Parents could appreciate affordable daycare and an easy drop off during commute hours.
Some preschools could struggle with rules and restrictions negatively impacting a learning environment. The best Montessori schools in the East Bay focus on child development and highly-trained teachers to lead the way. For these reasons, Learn and Play Montessori has announced new blog for finding the best Montessori preschools in the East Bay.
ABOUT LEARN AND PLAY MONTESSORI
Learn and Play Montessori aims to be one of the best Montessori schools in the greater San Francisco Bay Area. Whether parents are looking for a Montessori School in Danville, a Blackhawk preschool, or a top-rated Montessori School in Dublin / San Ramon, Learn and Play has a campus for their child or children. Bay Area parents searching for Walnut Creek preschool options could find the right fit in Danville. All schools use the famed Montessori method, offering programs from childcare to daycare, preschool to kindergarten, in not only Danville, Fremont, Dublin, or San Ramon but also in nearby towns such as Alamo, Blackhawk, Diablo or San Ramon on the I-680 corridor as well as Walnut Creek.
Learn and Play Montessori
Media Relations
https://www.learnandplaymontessori.com/