Fremont, California – March 30, 2020. Learn and Play Montessori, a best-in-class preschool program in Fremont, Danville, and Dublin, California, is proud to announce a new informational post that parents can read during the current shutdown. The post helps parents understand the importance of "play" as a way to bolster foundational skills in science, technology, engineering, and math or STEM.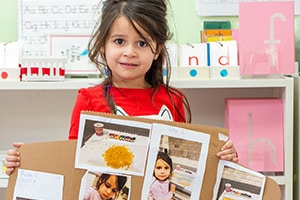 "While our schools are closed during the current crisis, we want to encourage parents to think strategically about how they can nurture foundational skills for success at STEM," explained Harpreet Grewal, director of Learn and Play Montessori. "Our new post shares why a teaching approach that includes plenty of child-guided playtime for curious little students can set the foundation for better learning in later grades."
Bay Area parents can review the new post about Fremont preschool choices. A curriculum designed to mix play and discovery can guide a young student towards developing key skills. Self-directing techniques could help children learn simple science facts, writing, and necessary math skills. Interested residents can review the Montessori preschool informational page. Persons who want to learn more about the shutdown can visit the information page.
A MONTESSORI METHOD HELPS FREMONT PRESCHOOL STUDENTS PRACTICE 'NATURAL LEARNING'
Here is the background on this release. Small children can appear to be in constant movement during waking hours. Natural inclinations to touch, taste, and manipulate items can help young children learn about the world around them. Bay Area families might prefer a childcare program designed to support inherent learning skills. Fremont preschools using Montessori teaching methods can be the right path for a life-long love of education.
Children learn to explore the world around them from birth to age three. Early child development stages may include cognitive development, language, and social, emotional skills. Pre-school-ready children could benefit from a curriculum made to support natural learning behaviors. For these reasons, Learn and Play Montessori announce a new post about Fremont preschools. Even parents who are "homeschooling" during the shutdown can use these tactics to help their children.
ABOUT LEARN AND PLAY MONTESSORI
Learn and Play Montessori aims to be one of the best Montessori schools in the greater San Francisco Bay Area. Whether parents are looking for a Montessori School in Danville, a Blackhawk preschool, or a top-rated Montessori School in Dublin / San Ramon, Learn and Play has a campus for their child or children. Bay Area parents searching for Walnut Creek preschool options could find the right fit in Danville. All schools use the famed Montessori method, offering programs from childcare to daycare, preschool to kindergarten, in not only Danville, Fremont, Dublin, or San Ramon but also in nearby towns such as Alamo, Blackhawk, Diablo or San Ramon on the I-680 corridor as well as Walnut Creek.
Learn and Play Montessori
Media Relations