Many, if not all, Dublin, California, moms and dads need daycare for their kids and are looking for Dublin daycare options. That is something that we understand only too well here at Learn And Play Montessori School in Dublin because most of our parents are working parents that need to have somewhere for their children to be looked after during working hours, because they can't afford a nanny to look after them in their own home.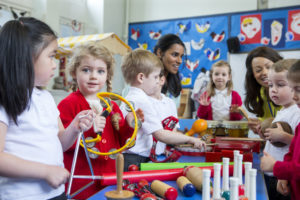 Let's be honest: a full-time nanny is an expense that the average family simply cannot afford and is only for the wealthy.
That is why they are looking for Dublin daycare options but often cannot find what they need. That's something else we understand at Learn And Play Montessori in Dublin which is why we open at 7.00 am and stay open until 6.30 pm. We are a full service daycare school and cater for children from the ages of two to six years old, taking every care of your child and providing a learning experience that is second to none.
We provide a year-round Montessori program in our beautiful campus which has five large classrooms with extended windows because we believe that there is nothing better than natural light to provide an atmosphere which the children will enjoy. We also have a playground near the back of the school which is fully gated and offers a safe environment in which the children can play and learn about the outside world.
Right Next To The I680 And 580: A Dublin Montessori Program that's Commute-friendly
Our Dublin Montessori school is also right next door to the I680 and 580 so is ideal for parents who commute and run up and down these highways on their way to and from work. We are convenient to Pleasanton, San Ramon, Livermore, Asco, Dougherty, Castro Valley, Sunol, Brookshire, and Tassajara as well, so wherever you live around Dublin we are easy to get to.
We firmly believe that the Montessori method of learning for young children is the best that there could possibly be. It doesn't require the children to sit down and listen to a teacher talking to them but instead allows them to range freely around our lovely large classrooms and choose for themselves what they find that interests them from the large choice of Montessori materials that are provided. All the materials are designed with the purpose of educating them in the various life skills that we all need, but they choose whichever interest them rather than being told what to do.
The result is that they learn because they are enjoying what they are doing, so as we say, they learn to love learning, which is something that will stand them in good stead for the rest of their lives.