June 26 2018 – Danville, California. Learn and Play Montessori, a leading Montessori program offering service from childcare / daycare to preschool to kindergarten with locations in Danville, Dublin / San Ramon, and Fremont, is proud to announce an update to its popular page on Danville educational opportunities for children aged 18 months to six years.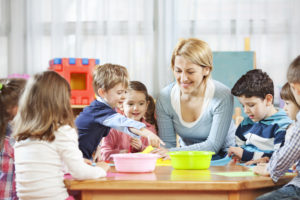 The newly updated page is a "one stop" resource for busy parents to learn about how a Montessori program might be the best preschool or kindergarten experience for their child in a convenient Danville, California, location.
"We are so proud of our beautiful and spacious Montessori school in Danville," explained Harpreet Grewal, director of Learn and Play Montessori. "The first stop any parent should make is to visit our newly updated web page, and the second is to request a school tour in Danville."
To visit the newly updated page on Danville preschool and kindergarten opportunities, please visit the website. In addition to visiting this page, interested parents are strongly urged to visit the "school tours" page and sign up for a school tour. Persons with a child in the preschool age group are encouraged to visit the preschool page for Danville, California, for more info as well.
A PRESCHOOL PROGRAM IN DANVILLE SECOND TO NONE
Danville, California, is a beautiful community along the I-680 corridor connecting Walnut Creek in the North with San Ramon, Dublin, and Pleasanton in the South. Many busy parents who live or work in communities as diverse as Alamo or Walnut Creek, San Ramon or Dublin, find Danville to be an ideal spot for their child's preschool or kindergarten experience. Those who are seeking top-notch education using the Montessori method can learn quite a bit by visiting the newly updated information page. For example, they can learn that the curriculum includes oral preparation, visual learning, visual arts, second languages, music, and movement arts. They can learn that the Tudor cottage style campus hosts 8 colorful and inviting classrooms for daycare, childcare, preschool and kindergarten which are filled with sequenced and high-quality Montessori material that allows for endless learning opportunities for the young inquisitive minds. In addition, they can schedule a "school tour" which is the best way to determine whether Learn and Play Montessori will be the best preschool or kindergarten opportunity for their child in Danville, California, and environs.
ABOUT LEARN AND PLAY MONTESSORI
Learn and Play Montessori aims to be one of the best Montessori schools in the greater San Francisco Bay Area. Whether parents are looking for a Montessori School in Danville, a Fremont Montessori School or a top-rated Montessori School in Dublin / San Ramon, Learn and Play has a campus for their child or children. All schools use the famed Montessori method, offering programs from childcare to daycare, preschool to kindergarten, in not only Danville, Fremont, Dublin or San Ramon but also in nearby towns such as Alamo, Blackhawk, Diablo or San Ramon on the I-680 corridor as well as Walnut Creek.
Learn and Play Montessori
Media Relations
https://www.learnandplaymontessori.com/