While there are many good daycare and preschool programs in Newark, CA, many Newark parents find that their best course of action is to come up to the "big city", that is Fremont.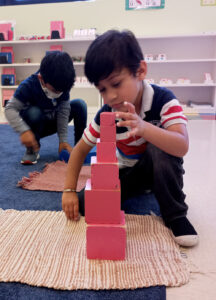 That is, if they are looking for Montessori in Newark CA. At Learn And Play Montessori, we have several campuses in Fremont, including a new one opening very shortly at Centerville. It's right next door to Newark. Parents who live or work in Newark find our schools to be "commute friendly," as Fremont is a commute hub in the South Bay.
Not only that, but of course, many Newark residents work in Fremont anyway, so if you want Montessori in Newark, CA, it just makes sense to bring your child to us. Our campuses open at 8.00 am, so they are perfect for Newark parents who work in Fremont. We offer daycare, preschool, and kindergarten programs all based on the Montessori method. Better still, we stay open until 6.00 pm. This means that, whatever your hours of work are, we are about as convenient as it could be. You drop your child off on the way into work and pick him or her up again on the way home.
Furthermore, we offer different programs, so you can make use of our half-day program, extended day program, and full-day program as it suits you. We also offer after-school programs for the half-day and extended days, so if you need your child to stay on later on a particular day, it is no problem at all.
The Best Possible Start In Life: Preschool, the Montessori Way
The Montessori method of learning is the best possible start in life that any child could have. It starts from the premise that every child is an individual and should be treated as such. Our classrooms in each school are large, light, and airy, and they are filled with the finest-quality Montessori materials from which the children are allowed to choose.
So, our children don't sit at a desk listening to a teacher talking about something that may – or may not – interest them. They can select from the various materials and take them away, play with them, find out what they do – if, indeed, they do something – and learn all about them.
There is no rush, and every child is exploring something that has caught his or her interest. So, our children learn about things because they want to learn about them. There is also no element of competition or trying to be "best" at something because most children are learning about something different from the next child. Our teachers keep an eye on what each child is doing and when the time is right will introduce him, or her, to some further materials.
The children learn because they want to find out more. They want to explore. They want to know about something.
So, if you are looking for Montessori in Newark, CA, Learn And Play Montessori is just up the road.