Dublin, California, takes it's name from the city in Ireland, but our Dublin is not very Irish any more, apart from it's famous St. Patrick's Day celebrations.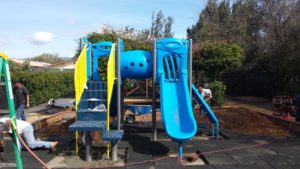 But at Learn And Play Montessori we are proud to have the "luck of the Irish" with one of the best preschools in Dublin, California.
Our Dublin Montessori preschool is located at 11900 Silvergate Drive in Dublin and is conveniently located for access from both Highway 680 and Highway 580, so is ideal for parents who live in Livermore, Pleasanton, and San Ramon also. The campus is open from 7.00 am to 6.30 pm which makes it ideal for working parents who need to drop off or collect their child before and after work.
The state-of-the-art campus is open year-round for children from the ages of 2 to 6, and is considered the Dublin, California, best preschool for learning in the Montessori Method. There are five beautiful classrooms filled with high quality Montessori learning materials providing endless opportunities for learning. There are very large windows which allow a considerable amount of natural light, and the rooms have been designed with plenty of space for the children to move around freely and explore all of the Montessori material. There is also a playground near the back of the school which is securely gated and provides a safe place for the children to play and learn outside.
Children Use All Five Senses
The Montessori Method at this Dublin, California, preschool encourages each child to learn and play at his or her own pace, and to undertake activities of their own choosing. The children learn using all five of their senses and by engaging with their counterparts in the classroom. Each child proceeds at his or her own pace, and there is no pressure on a child who is slower than others, and equally one who is a quicker learner does not get held back. Combined with the fact that the child chooses his or her own activities, they very quickly find that they love to learn. They learn by doing, rather than by listening to a teacher talking.
Our Dublin, California, staff provides the highest standards in the child's early development by introducing new challenges and lessons, and then letting the children practice what they have learned. There is a huge amount of Montessori materials for the children to explore on their learning journey, and our goal is to support them and deepen their learning and social development which is so important for them in making the transition to the elementary stage. Oh, and in case you're wondering, of course we celebrate St. Patrick's day each year as one of the best preschools in Dublin, California. We love history and culture and update our kids on the many diverse and wonderful cultures in California, including of course the Irish.