If you have started to look for Pleasanton daycare for your child, you will have noticed that it is hard to find. Usually, Pleasanton daycare, and for that matter most daycare, is private. You might opt for a home-based daycare in Pleasanton, but that is not always the best for the child by any manner or any means.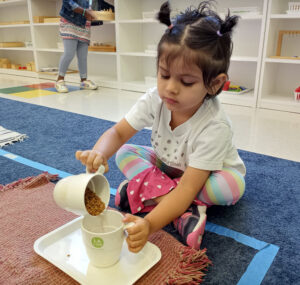 This is because you may have a daycare provider who will just look after your child but won't actually start to "teach" him or her anything. The daycare provider will just keep your child safe, change diapers, and so on, provide food and drink as necessary, and let him or her play with toys, but that is about the beginning and the end of it.
In most cases, a more formal, licensed daycare, such as we provide at Learn And Play Montessori is a far better option. This is because we can provide everything that a home daycare assistant does, but we can also start your child off on the first steps of the road of his or her education. This is because we can provide age-appropriate techniques using the Montessori method.
Each Child Is An Individual in the Montessori Method
The Montessori method recognizes that every child is an individual and that what is right for one child may not be for another. So, we start each child off on the right foot. Of course, every child can play with blocks and draw pictures, and those activities are important. However, we also want to focus on the brain development of each child.
We use the Montessori method in tandem with first-class daycare, so your child will learn to use flash cards, play with puzzles, learn to read, and learn vocabulary. We start your child off on subjects that they will being to work on when they enroll in school a year or so down the line. So, we cover math, visual art, science, movement, physical arts, and language. This gives them the grounding that they need so that when they start school, they will be ahead of the other children.
We also understand that it is important for your child to learn to work with others and to have respect. At the same time, children learn at different rates, and we believe that it is important for your child to be able to learn at his or her own pace. This means that not only is learning different, but the way that things are taught has to fit around your child, not the other way around.
So, if you are looking for daycare for your child in Pleasanton, Dublin, Fremont or other East Bay cities, book a school tour with us and get the answers to all your questions.