August 27, 2018 – San Ramon, California. Learn and Play Montessori, a leading Montessori-based preschool program in Danville but serving nearby communities like San Ramon or Alamo, is proud to announce a new post that succinctly explains the advantages of the "Montessori Method."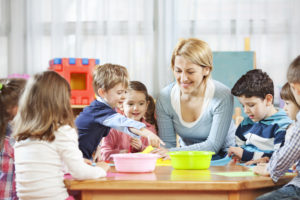 The post argues that early creative learning techniques can provide an advantage for children in elementary school and that the "Montessori Method" could lay the foundation for a child to love learning for their entire life.
"Yes, we offer daycare and preschool services for busy San Ramon, California, residents, but first and foremost we are teachers. Our priority is to help each child achieve confidence in learning and take that on to their schooling experiences," explained Harpreet Grewal, director of Learn and Play Montessori. "The Montessori method is a respected program and we are proud to say it can help young minds get ready for learning. We're eager to share the Montessori advantages with San Ramon parents looking for San Ramon preschool options."
Residents can review the new blog post at https://www.learnandplaymontessori.com/blog/the-advantages-of-montessori-for-preschool-come-to-danville-to-find-out. The post explains that it can be important for children between the ages of two through six to learn at an individual pace in a Bay Area preschool. Education combined with creative and engaging activities via the Montessori Method could be the right mix for a family, whether they live in Danville, Blackhawk, or San Ramon. To learn more about San Ramon preschool options visit https://www.learnandplaymontessori.com/san-ramon; interested parents can even schedule a school tour right from the website.
MONTESSORI PRESCHOOLS IN SAN RAMON PICK UP THE PACE MIXING FUN AND LEARNING
Here is background on this release. It may be common for Bay Area daycare or preschool facilities to advertise fun and unique activities to keep children busy. Parents in areas along the I-680 corridor may expect a child to be well cared for but expect more than entertainment for their child. A pre-kindergarten environment allowing young minds to learn at a personal pace could be important to a Bay Area mother and father. Montessori preschools in San Ramon can combine early learning and creativity to a child's daily schedule.
For these reasons Learn and Play Montessori has announced a new post on the advantages of a Montessori-based curriculum. The best Bay Area preschool environment can include both playtime and learning moments to prepare a young girl or boy for elementary school. A child on a nature walk can touch various plants and learn simple science facts, for instance, or pointing out different sounds in a song during music time can create building blocks for musical understanding. Montessori preschools in San Ramon could be the educational advantage Bay Area parents have been searching for. Interested parents are urged to read the new posts, but more importantly, to schedule a school tour as soon as possible
ABOUT LEARN AND PLAY MONTESSORI
Learn and Play Montessori aims to be one of the best Montessori schools in the greater San Francisco Bay Area. Whether parents are looking for Montessori preschools in San Ramon, Danville, Walnut Creek daycare or a top-rated Montessori School in Dublin / San Ramon, Learn and Play has a campus for their child or children. All schools use the famed Montessori method, offering programs from childcare to daycare, preschool to kindergarten, in not only Danville, Fremont, Dublin or San Ramon but also in nearby towns such as Alamo, Blackhawk, Diablo or San Ramon on the I-680 corridor as well as Walnut Creek.
Learn and Play Montessori
Media Relations